LineTroll R110CQ
The LineTroll R110C RIS Remote Indicator System uses line mounted fault indicator LineTroll 110Eμr and the pole mounted SMS/GPRS sending device LineTroll R110CQ.
The system is designed for 6-50kV distribution networks but will also be available in a version for transmission networks up to 138kV.
The fault indicator use a 2.4GHz ISM band short-range radio to communicate with the collector mounted on the pole. The collector communicates with up to 12 fault indicators. Both the indicators and the collector are powered by long-life lithium batteries for long and maintenance free operation.
All settings and configuration can be done remotely from the central unit. It is also possible to use a handheld configuration device to program the collector and the
fault indicators.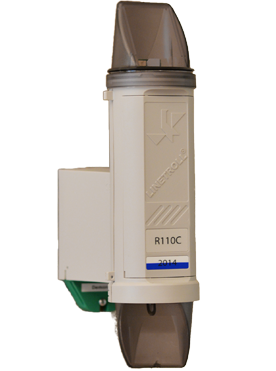 Features include:
Remotely programmable operating parameters.
From NetTroll
From NetTroll FDP (stand-alone configuration utility software)
Hand-held unit, FDP-20
Integrated addressable short-range radio.
High visibility for local indication
RED Strobe flash for permanent faults
Green LED for transient faults
Yellow LED for Low Battery Warning
Usable on all Medium Voltage distribution networks 6-69KV.
Usable on multi circuit systems.
Voltage or current as start criteria (programmable)
Inrush Blocking
Resistant to tough weather conditions.
Live-line mounting with standard clamp stick
Line diameters up to 36mm